Rotor-Tech C/F Main & Tail Blades
Hi-Gloss clear resin finish show the black carbon fiber weave that not only looks great, but also decreases parasitic drag. Their rigid, sharp trailing edge also reduces drag. This leaves more engine power to generate more lift and speed.
The specially designed tips increase efficiency at all rotor speeds.
The blades are perfectly balanced so you can just bolt them on and fly.

All of this results in solid tracking, stable speed in fast forward and backward flight with excellent aerobatics and autorotation capabilities.
Canadian Retail Price List ......Effective: Jan 1 2020
All Prices in Canadian Dollars
US Dollar, approx. 25% less.
Rotor-Tech Main Blades, Tail Blades
& Night Blades

| Model# | Length (mm) | Chord (mm) | Airfoil | Approx. Weight | Root (mm) | Bolt Size (mm) | Price |
| --- | --- | --- | --- | --- | --- | --- | --- |
| RT-700UL | 700 | 62 | symm. | 210 | 14 to 16 | 4 and 5 | $189.95 |
| RT-610UL | 610 | 56 | symm. | 145 | 12 to 14 | 4 | $139.95 |
| RT-560UL | 560 | 52 | symm. | 120 | 12 to 14 | 4 | $104.95 |
| Model# | Length (mm) | Chord (mm) | Airfoil | Approx. Weight | Root (mm) | Bolt Size (mm) | Price |
| --- | --- | --- | --- | --- | --- | --- | --- |
| RT-830 | 830 | 65 | Semi-Sym. | N/A | 16 | 5 | $314.99 |
| RT-950 | 950 | 70 | Semi-Sym. | N/A | 12 | 4 & 5 | $679.95 |

| Model# | Length (mm) | Chord (mm) | Airfoil | Approx. Weight | Root (mm) | Bolt Size (mm) | Price |
| --- | --- | --- | --- | --- | --- | --- | --- |
| RT-810 F3C | 810 | 66 | Symmetrical | 225+g | 14 - 16 | 4 & 5 | $264.99 |
| RT-720 F3C | 720 | 61.5 | Symmetrical | 227g | 14 - 16 | 4 & 5 | $179.99 |
| RT-700 F3C | 700 | 61.5 | Symmetrical | 220g | 14 - 16 | 4 & 5 | $169.99 |
| RT-600 F3C | 600 | 55 | Symmetrical | 135g | 12 - 14 | 3 & 4 | $135.99 |
| RT-570 F3C | 570 | 52 | Symmetrical | 120g | 12 - 14 | 3 & 4 | $97.99 |
| RT-550 F3C | 550 | 50 | Symmetrical | 110 | 12 - 14 | 3 & 4 | $89.99 |

| Model# | Length (mm) | Chord (mm) | Airfoil | Approx. Weight | Root (mm) | Bolt Size (mm) | Price |
| --- | --- | --- | --- | --- | --- | --- | --- |
| RT-810-3D | 810 | 65 | Symmetrical | N/A | 16 | 5 | $295.99 |
| RT-760-3D | 760 | 66 | Symmetrical | N/A | 14 | 5 | $221.99 |
| RT-710-3D | 710 | 63 | Symmetrical | 185g | 14 - 16 | 4 & 5 | $179.99 |
| RT-690-3D | 690 | 61.5 | Symmetrical | 180g | 12 - 16 | 4 & 5 | $169.99 |
| RT-670-3D | 670 | 59 | Symmetrical | 175g | 12 - 14 | 4 & 5 | $165.99 |
| RT-640-3D | 640 | 59 | Symmetrical | 135 | 12 - 14 | 4 & 5 | $145.99 |
| RT-620-3D | 620 | 59 | Symmetrical | 135 | 12 - 14 | 4 & 5 | $139.99 |
| RT-610-3D | 610 | 57 | Symmetrical | 135g | 12 - 14 | 3 & 4 | $134.99 |
| RT-560-3D | 560 | 53 | Symmetrical | 110g | 12 - 14 | 3 & 4 | $89.99 |
| RT-510-3D | 515 | 50 | Symmetrical | 92g | 12 - 14 | 3 & 4 | $73.99 |
| RT-480-3D | 480 | 42 | Symmetrical | N/A | 10 | 4 | $69.99 |
| RT-430-3D | 430 | 42 | Symmetrical | N/A | 10 | 3 | $67.99 |
| RT-380-3D | 386 | 35 | Symmetrical | N/A | 5 | 3 | $52.99 |
| RT-360-3D | 362 | 34 | Symmetrical | N/A | 5 | 3 | $46.99 |
| RT-280-3D | 280 | 25 | Symmetrical | N/A | 5 | 2.5 | $46.99 |
SPORT F/G - C/F Composite
Silver/grey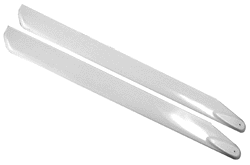 | Model# | Length (mm) | Chord (mm) | Airfoil | Approx. Weight | Root (mm) | Bolt Size (mm) | Price |
| --- | --- | --- | --- | --- | --- | --- | --- |
| RT-680 | 680 | 60 | Symmetrical | N/A | 14 | 4 & 5 | $84.99 |
| RT-660S | 660 | 53 | Semi-Sym | 120g | 12 - 14 | 3 & 4 | $84.99 |
| RT-610S | 610 | 55 | Semi-Sym | 140g | 12 - 14 | 3 & 4 | $69.99 |
| RT-600 | 600 | 55 | Symmetrical | 145g | 12 - 14 | 4 & 5 | $69.99 |
| RT-550 | 550 | 51 | Symmetrical | 150g | 12 - 14 | 4 & 5 | $59.99 |
| RT-530 | 690 | 51 | Symmetrical | 190g | 12 - 16 | 4 & 5 | $59.99 |

| Model# | Length (mm) | Chord (mm) | Airfoil | Approx. Weight | Root (mm) | Bolt Size (mm) | Price |
| --- | --- | --- | --- | --- | --- | --- | --- |
| RT-450S | 450 | 45 | Semi-Symm | N/A | 14 - 16 | 4 & 5 | $67.99 |
| RT-430 | 430 | 42 | Symmetrical | N/A | 12 - 14 | 3 & 4 | $67.99 |
| RT-350 | 350 | 34 | Symmetrical | N/A | 4.5 | 3 | $46.99 |
| RT-330 | 330 | 32 | Symmetrical | N/A | 4.5 | 3 | $42.99 |
| RT-320 | 320 | 32 | Symmetrical | N/A | 4.5 | 3 | $42.99 |
| RT-300 | 303 | 32 | Symmetrical | N/A | 4.5 | 3 | $42.99 |
| RT-270 | 277 | 32 | Symmetrical | N/A | 4.5 | 3 | $42.99 |
| RT-250 | 250 | 32 | Symmetrical | N/A | 4.5 | 3 | $42.99 |

| Model# | Length (mm) | Chord (mm) | Airfoil | Approx. Weight | Root (mm) | Bolt Size (mm) | Price |
| --- | --- | --- | --- | --- | --- | --- | --- |
| RT-600-3 | 600 | 43 | Semi-Sym | N/A | 12 | 4 | $175.99 |
| RT-600-4 | 600 | 43 | Semi-Sym | N/A | 12 | 4 | $229.99 |
| RT-600-5 | 600 | 43 | Semi-Sym | N/A | 12 | 4 | $309.99 |
| Model# | Length (mm) | Chord (mm) | Airfoil | Approx. Weight | Root (mm) | Bolt Size (mm) | Price |
| --- | --- | --- | --- | --- | --- | --- | --- |
| RT-320-3DL ** | 320 | 32 | Symmetrical | N/A | 4.5 | 3 | $99.99 |
| RT-430-3DL ** | 430 | 42 | Symmetrical | N/A | 10 | 3 | $116.99 |
| RT-530-3DL ** | 530 | 53 | Symmetrical | N/A | 12 | 4 | $126.99 |
| RT-610-3DL | 610 | 57 | Symmetrical | N/A | 12 | 4 | $210.99 |
| RT-690-3DL | 690 | 61.5 | Symmetrical | N/A | 14 | 4 & 5 | $249.99 |
| RT-710-3DL | 710 | 63 | Symmetrical | N/A | 14 - 16 | 4 & 5 | $254.99 |
| RT-11092LA | 92 | 30 | Tail Rotor | N/A | 5 | 3 | $84.99 |
| RT-11059-LA | 105 | 32 | Tail Rotor | N/A | 5 | 3 | $94.99 |
| RT-11109-LA | 110 | 32 | Tail Rotor | N/A | 5 | 3 | $95.99 |
| RT-9913 | Battery | pack for | V2 night | blades | | | $73.99 |
| RT-9923 | A/C | charger | for V2 | packs | | | $31.99 |
| RT-9924 | D/C | charger | for V2 | packs | | | $31.99 |
| ** CR1225 | Replacement | Button | Cells (2) | | | | $6.95 |
Ultimate Series Tail Blades

| Model# | Length (mm) | Chord (mm) | Airfoil | Root (mm) | Bolt Size (mm) | Price |
| --- | --- | --- | --- | --- | --- | --- |
| RT-86UL | 86 | 26 | symm. | 5 | 3 | $34.95 |
| RT-93UL | 93 | 30 | symm. | 5 | 3 | $36.95 |
| RT-106UL | 106 | 32 | symm. | 5 | 3 | $39.95 |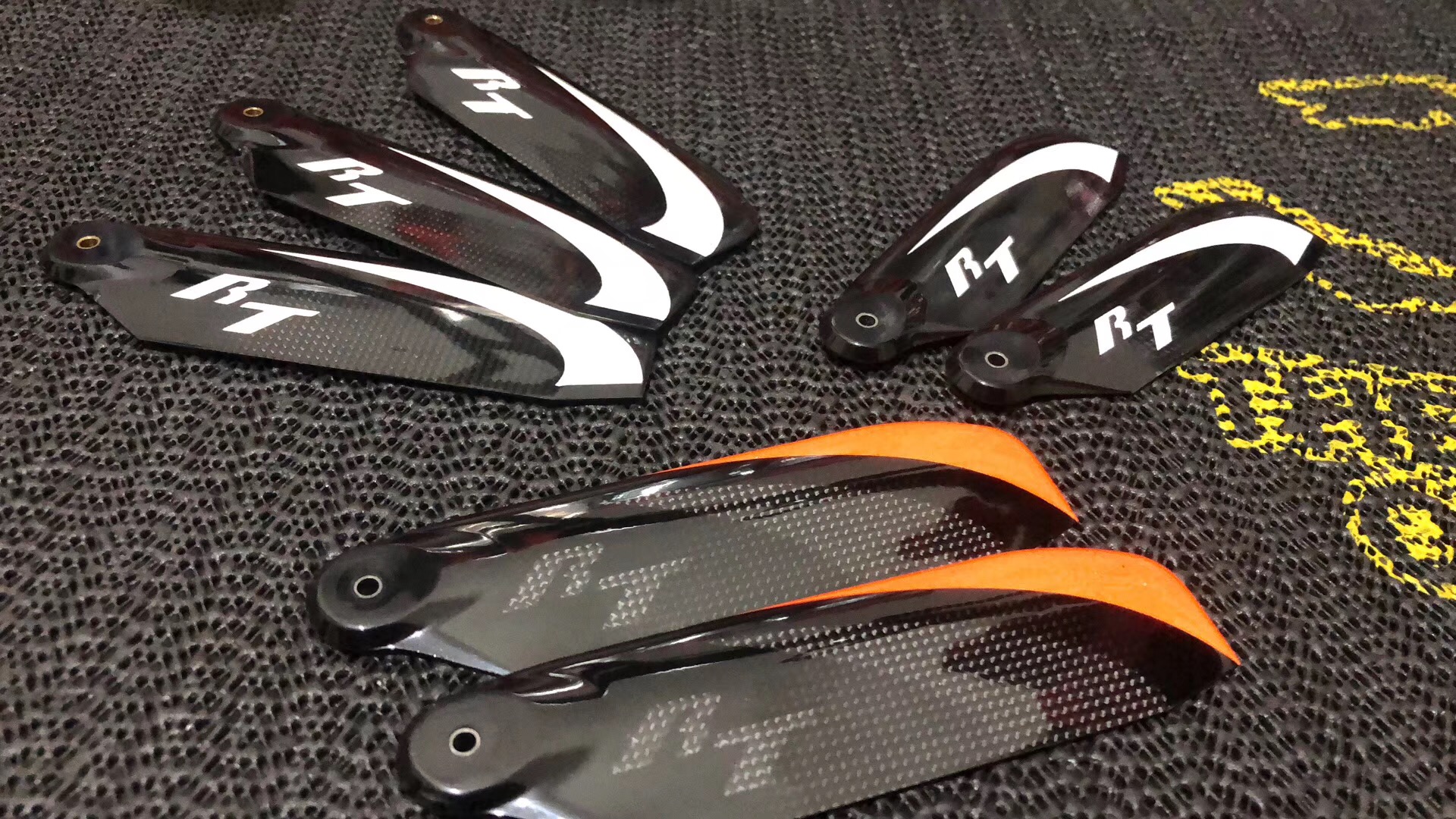 | Model# | Length (mm) | Chord (mm) | Airfoil | Root (mm) | Bolt Size (mm) | Price |
| --- | --- | --- | --- | --- | --- | --- |
| RT-57 | 57 | 17 - 20 | symm. | 2.5 | 2 | $14.99 |
| RT-76 | 76 | 23 | symm. | 5 | 3 | $27.99 |
| RT-85 | 85 | 26 | symm. | 5 | 3 | $27.99 |
| RT-92/3 | 92 | 26 | symm. | 5 | 3 | $27.99 |
| RT-92/6 | 92 | 30 | symm. | 5 | 3 | $31.99 |
| RT-95 | 95 | 30 | symm. | 5 | 3 | $31.99 |
| RT-105 | 105 | 30 | symm. | 5 | 3 | $32.99 |
| RT-115 | 115 | 30 | symm. | 5 | 3 | $39.95 |
| RT-120 | 120 | 30 | symm. | 5 | 3 | $42.95 |
| RT135 | 135 | 35 | symm. | 8 | 3 | $88.95 |
Carbon Fibre High Performance Flybar Paddles

CN262363

C/F 3D Flybar paddles for 3 mm flybars

$55.99

CN262460

C/F FAI/Scale/Sport Flybar paddles for 4 mm flybars

$61.99

CN262463

C/F 3D Flybar paddles for 4 mm flybars

$67.99
Aerotech Plus ARF Wood Rotor Blades
| Model# | Length (mm) | Chord (mm) | Tip Shape | Approx. Weight | Airfoil | Root (mm) | Bolt Size (mm) | Price |
| --- | --- | --- | --- | --- | --- | --- | --- | --- |
| CN2343 | 640 | 61 | curved | 145 | symm. | 14 - 16 | 4 & 5 | $41.99 |
| CN2342A | 620 | 60 | curved | 135 | symm. | 14 - 16 | 4 & 5 | $39.95 |
FunKey Main Rotor Blade Covers
| Model# | Length (mm) | Chord (mm) | Tip Shape | Approx. Weight | Airfoil | Root (mm) | Bolt Size (mm) | Price |
| --- | --- | --- | --- | --- | --- | --- | --- | --- |
| CNF3330 | | | | Blade cover - 30 | | | | $23.99 |
| CNF3346 | | | | Blade cover - 46/50 | | | | $25.99 |
| CNF3360 | | | | Blade cover - 60/90/GS | | | | $29.99 |